WARNING – GRAPHIC CONTENT – NOT FOR SENSITIVE VIEWERS!
SOUTH AFRICA is ostensibly a country whose controllers exercise the worst kind of naked racism and discrimination in order to stay in power. South Africa is also furthermore a country with the most vindictive, cruel and racist black population on earth, who refuse to obey any Western law bar those in favour of themselves. It is a country that is ruled by people with double standards and a questionable judiciary that would rather apply unfair  "politically correct" biased verdicts – than honest and righteous judgments.  After 'apartheid', racism and discrimination transformed into a new cover of human rights abuse and we have a new kind of racism in place – BLACK racism! 
This is so clear as in the new "Democratic" dispensation only "Black Lives Matter".  The "majority " population of South Africa only has three basic laws in place:
Rule  1)   The communist government have ALL the rights – the right to murder, oppress, steal, discriminate, plunder, sell out the country and it's assets, live in extraordinary wealth, set up private armies, have the right to impose inhuman laws violating the rights of other race groups and to be utterly corrupt. They are the "untouchables." They have "indemnity" against any legal action or prosecution.  
Rule 2)  The "majority " are the only ones that are allowed to have human rights, rights to strike, rights to destruct, rights to claim land, rights to go on violent riots, plunder businesses and torch property, rights to demand free education, rights to destroy the cultures and statues of other race groups, have the right to discriminate against other race groups, rights to call other people "racists",  have the right to call other race groups derogatory names, place inflammatory and dehumanizing  posts on social sites,  rights to victimize against the cultural inheritance,  history, language and sovereignty of other races, rights to  free services and free government grants, rights to live for free in "informal settlements" , rights not to pay taxes, rights to the job market , rights to have their own " black only" areas and homelands, rights to have private armies or militant political parties like the EFF, AZAPO, NARYSEC, BLF, Black Lives Matter, Umkhonto Veterans, etc, (all sponsored by taxpayers funding) – rights to exercise their cultural heritage, rights to have their own race-based organizations, rights to have BEE laws to protect them and rights to be represented on every level of governance.
Rule 3.)  If you happen to be unlucky enough to be part of the "minority",  feel different or deem yourself, out of sheer arrogance, to be important enough to claim any rights, please refer to laws no. 1 and 2. Thus there is no place,  tolerance, or any rights for any other minority group in South Africa.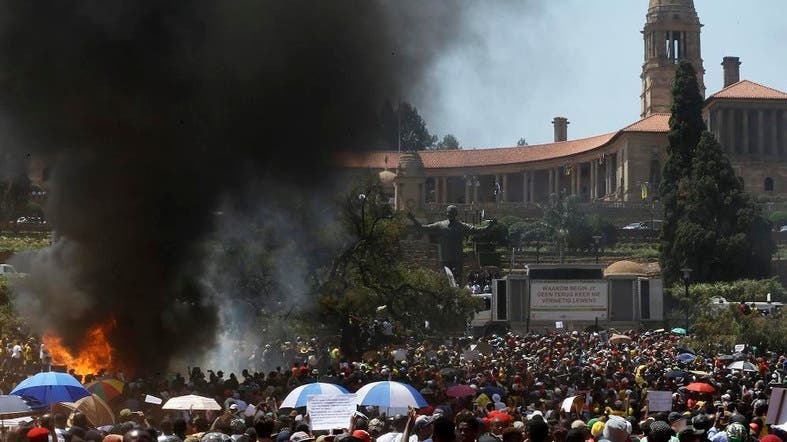 THIS PICTURE SPEAKS A THOUSAND WORDS– THE TRUE REFLECTION OF YOUR "NEW " SOUTH AFRICA, THE CREATOR OF THE CHAOS SPREADS HIS HANDS AS IF IN A BLESSED GESTURE IN FRONT OF THE CAPITOL OVER THE VIOLENT LEGACY HE LEFT BEHIND.
The fact and evidence that the "majority" are hardened hypocrates that do not cherish any sympathy, favour or any feeling of grace towards other human beings are also legio. The "majority rule"  law in  South Africa mainly revolves around their own personal selfish gain and have no respect for any other culture or belief that do not accommodate benefits for the majority rule as well, or embrace any system where they have to work hard or toil for any benefit other people have to struggle to obtain. The majority base their rights on chaos, murder, strikes, violent riots and biased outcomes that only favour their racist culture. Whether these actions or culture destroy the very same system or infrastructure they, or for that matter, anybody else,  depend on for their daily livelihood, do not bother them at all.
For example, South Africa is the only country that ranks higher than Venezuela when it comes to violent riots – according to Bloomberg's "Misery" Index. The only ones guilty of this notorious honour is the "majority"– as there are to date no violent riots attributed or documented to any other race in South Africa.  During 2017 South Africa recorded the most violent riots, more than 1200, in the world. The question is why does the "majority" then venture on this obvious path of destruction?  Is it race related, is it culture or is it bad choices of governance?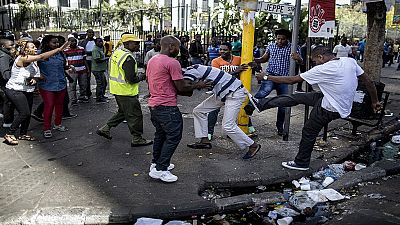 THE SOUTH AFRICAN "MAJORITY" ALREADY HAVE THE NOTORIOUS HONOR AS THE MOST MURDEROUS, VIOLENT PRONE AND DESTRUCTIVE NATION IN THE WORLD BY FRIEND AND FOE,  AN HONOR THEY LIVE UP TO EVERY SINGLE DAY.
IN THE END, THE RESULT OF THEIR VIOLENT NATURE ALWAYS REMAIN THE SAME…
The statistics show that political violence and protests in South Africa over the first part of 2017 have steadily increased. May 2017 witnessed an upsurge in conflict events and protests with levels of violence and protests not seen since October 2016. Riots and protests by the " majority" continue to compromise the majority of events in South Africa. Last week saw some of the highest rates of violent demonstrations reported thus far in 2017 –  well above the average number seen in other weeks. The number of conflict and protest events by the "majority" has steadily risen in South Africa due to student demonstrations in universities across South Africa concerning a rise in tuition fees. They want free education, as usual, irrespective of just who is going to pay for those losses at the end of the day. The recent spike in protest activity represents a repeat of the student riots in 2016.  South Africa witnessed the highest levels of political unrest by the "majority" in mid-October when the country was hit by a series 0f xenophobic riots in April 2015. The irony is that the "majority" once again elected this same regime to rule for the past 20 years whilst violently protesting against it for 20 years. Any logic in this?
Crime:
THE "MAJORITY" EXERCISE THEIR "RIGHTS" TO GO ON AN "AFFIRMATIVE SHOPPING" SPREE.
Crime is a prominent occurrence in South Africa. The country's rate of murders, white farm attacks and murders, assaults, rapes (adult, child, elderly and infant), and other crimes are extremely high when compared with most countries. … The South African Police Service (if we may be naive enough to still call it that) is totally outnumbered and outgunned in the streets by the number of criminals from the "majority"  and is responsible for managing 1,115 'non-functional' police stations across South Africa. This is because, generally, the number of crimes committed will increase as the "majority" population grow and grow it does. especially in the "majority" slums and squatter camps that now infest practically every town and city in South Africa, spreading their evil unhygienic and crime-infested tentacles onto private land and farms as well.
In all nine provinces, the majority of households surveyed confirm that violent crime had increased in their area. Which crimes do South Africans fear most? Interestingly, it appears that South Africans are more afraid of being robbed in their houses than killed or assaulted, with housebreaking and burglary emerging ahead of murder. "It appears that the fear is driven by experience rather than the severity of the crime," notes Stats SA: "The most common crimes are also the most feared."
THE "MAJORITY'S" OFFSPRING ARE PRACTICING TO FOLLOW THE FOOTSTEPS OF THEIR LEADERS AND BECOME TRUE "DEMOCRATIC" SOUTH AFRICAN CITIZENS
How did the "majority" fare over the past 20 years in ruling their so-much hailed 'democracy?
Magnus Heystek  wrote in Moneyweb:
" We are firmly on the Low Road which is characterized by rising unemployment, theft and looting of state coffers, rising crime and social unrest and a widespread collapse of infrastructure (water, sanitation, roads and electricity) in major swaths of our country. I often travel to the smaller cities and larger dorpies in our countryside, meeting with business people and farmers, and hear first-hand the conditions under which they operate their businesses and enterprises.

Our economic growth rate over this period of time (2007-2017) has been almost 2 percentage points below the longer-term average which, apart from the obvious loss of potential employment for a country with a rising population, has also led to a steady deterioration in the key national financial metrics, such as debt to GDP, interest cost as well as tax buoyancy.

The result of ten years of economic sabotage and disastrous economic policies are now playing out in front of our eyes on TV and in the media. The collapse in revenue collection — a budget shortfall of between R40-R50 billion for the current fiscal year — are but superficial signs of the financial rot that has set in. The next target for state capture in its most brutal format is the trillions of rands being managed by the Public Investment Corporation on behalf of its clients, mostly the GEPF. And thereafter, I'm sure, will be the private sector pension funds. As Jesse James, an infamous bank robber in the US wild west, once said when asked why he robs banks: "Because that's where the money is".

As a country, we have now run out of the easy money. The easy money was the yearly increase in tax collections, which always seemed to match or even exceed budget figures. Those days are gone. The global commodity cycle — which generated super-duper profits for our mines from 2002 to 2008 — is now over, perhaps for a very long time.

For the past number of years Treasury, alongside our private sector economists, have been over-optimistic as far as economic growth rates were concerned." ( Link) 
The "Majority "  Have Their Own Infighting Raging Whilst Investors Flee…
Amid robust demand for emerging-market equities, there's one place global investors are avoiding: Africa's biggest stock market. With almost a full quarter to go, outflow from the Johannesburg Stock Exchange (JSE) has already reached R90.5bn this year, on track to equal last year's record of R125.8bn. By comparison, net sales reached R56.6bn in 2008, when emerging-market assets bore the brunt of a selloff sparked by the global financial crisis.
While the JSE's benchmark index is hovering near a record after climbing 11 percent this year, the stocks aren't an attractive prospect for foreigners who have to factor in a weakening Rand on top of anaemic growth, rich valuations and political risks. While South Africa emerged from a recession in the second quarter, the fiscal deficit is set to widen as revenue falls short of projections. The ANC, meanwhile, is also heading for a bruising leadership battle in December amid allegations of corruption and mismanagement.
"GDP growth is still very tepid at about half a percentage point, so vis-a-vis the other emerging markets it's extremely disappointing," said Jaap Meijer, head of equity research at Arqaam Capita in Dubai. "Some of the other emerging markets are picking up and recovering and South Africa is actually not showing any momentum." South Africa relies on portfolio flows to finance its current-account deficit, which widened to 2.4% of GDP in the second quarter from 1.9%. Bond inflows of about R68bn this year are not enough to offset the stock outflows. A widening shortfall would add pressure on the rand, which has already weakened 4.9% this half.
Martyn Davies has warned that even tougher times may lie ahead, as South Africa is in an increasingly bad way following in the footsteps of fellow BRICS member, Brazil."South Africa could potentially follow in Brazil's economic footsteps, albeit with an approximate two-year time lag," he said. "Looking ahead, pressures on South Africa's sovereign credit rating include very weak real GDP growth; public sector underperformance; twin deficits showing a shortfall both in the fiscus and the current account; waning investor confidence; the continued structural challenges of high unemployment; inequality; and poverty.
"Unless the state can reform itself, provide greater confidence for private capital and create a greater enabling environment for business, further downgrades can be expected," he said. The similarities between Brazil and South Africa are both not economic, but rather political – involving large allegations of corruption, legal battles and parties approaching courts to make sure the law is upheld. "Unless the South African political environment is 'fixed' and an essential improvement in governance occurs, the country may well follow in the footsteps of Brazil, a downward spiral of economic contraction and multiple sovereign debt rating downgrades," Davies said.
"Due to the pervasive and damaging control of SOEs – determined most often by ideology rather than pragmatic policy – both Brazil and South Africa suffer from an overbearing state. A crisis in government has led to an economic crisis. Until the politics is fixed, there is little vision for the economy."
The "Majority" Turning  Once Pulsating Cities Into Slums – Invading  private Property
The Germiston CBD is the latest in Gauteng to be targeted by black building hijackers after a group of tenants illegally occupied more than 10 flats and houses on Tuesday.  They claim the owner's failure to settle an R60 million municipal debt as their reason for occupying the residential properties. The group of close to 100 forced their way into two unoccupied buildings in Selkirk and Kinross streets on Tuesday morning.
Security Officers initially physically tried to block the gates but later gave up as the crowd, which included children and drunk adults, was getting rowdy and forceful.  By late afternoon, most of the rooms in both buildings, which have no electricity, had been occupied.  The buildings belong to 42 Power Street Properties, which owns more than 30 properties in the city. The owner, José Manuel Moneiro, lives overseas. A property and business search conducted by The Star showed that he was a director of 29 companies and owned 10 properties, valued at R996000 at the time of purchase. He bought them in the early 1990s.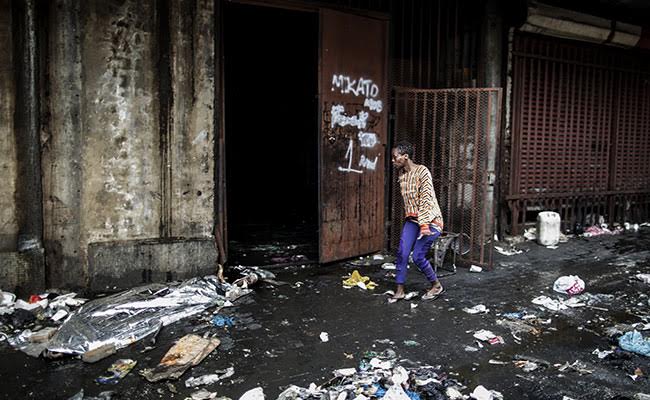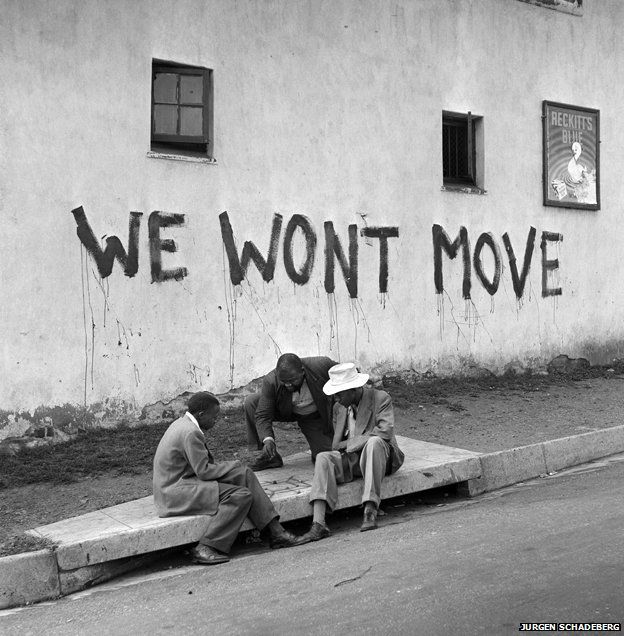 THIS IS WHAT THE "MAJORITY" DO TO YOUR PROPERTY WHEN THE ILLEGALLY OCCUPY IT AND GET EVICTED FOR NOT PAYING RENT.
JOHANNESBURG – ONCE THE HEARTTHROB OF THE ECONOMY- NOW AFTER THE INVASION OF THE "MAJORITY."
Ekurhuleni metro spokesperson Themba Gadebe said although they had been investigating the hijacking of buildings, they were not aware of this particular case.  "The city is busy with a law enforcement strategy as emphasised by a mayoral #Siyaqhuba interventions campaign, and officials from the affected department will be sent out to obtain the necessary information for intervention," said Gadebe.  He could not confirm whether Moneiro owed the council millions in rates as claimed by the illegal occupants.
The leeches occupied the two buildings at night, and Moneiro's office manager was found with a gunshot wound in his leg in his car, which was parked outside the company's offices in Victoria Street. Germiston police spokesperson Captain Manaka George Rathulu said police found the man bleeding and called for an ambulance.  "We don't know if the shooting is related to the hijacking of the building which occurred on the same day, but investigations are underway," Rathulu said.
This is the latest criminal attack on property in Gauteng. Similar cases were reported in Johannesburg's inner city as well as the suburbs of Windsor East and Rosettenville.  Most of these buildings have been abandoned by their rightful owners and taken over by slumlords. In July, 98 undocumented illegal aliens were arrested during a crackdown in Doornfontein.
The group involved in the Germiston incident have been occupying buildings located south of the CBD for many years. They were renting directly from Moneiro, but claimed that the City of Ekurhuleni had told them three years ago to refrain from doing so because Moneiro had a big municipal debt.
They claim they were instructed to pay the rent directly to the metro in order to settle the bill. "Since we started paying to the municipality, we have been getting threats from the owners' bouncers. They would break our doors and demand we give them the rent or face eviction," said Boitumelo Seitlhamo, the leader of the group.
Seitlhamo admitted that most of the people have since taken over several buildings owned by Moneiro and that attempts to seek intervention from the municipality had failed. Other people who were not tenants had also taken advantage of the situation by invading empty buildings.
Celeste Botha, who manages the buildings for Moneiro, feared that the company's nine vacant properties would also be invaded.  She said the leader of the "syndicate" was known to them and that last year they won court evictions against her and others. She said the alleged ringleader was collecting rent from tenants who she had illegally put into the buildings.
Botha said Tuesday's invasion began around 4 am. "We realised that it was the people who were evicted from previous properties.  "When the police arrived they tried to calm the situation but were not successful. They then instructed us to let these people in and obtain a court order to evict them. Can someone please explain how is this possible?  "How can we allow people who have no respect for the law or the courts to do as they please?" 
Seitlhamo, however, claimed that the council had given them the right not to pay Moneiro.  She showed The Star a letter from the council's credit control officer, MD Nkosi, stating that in terms of the Municipal Property Rates Act, she should not pay the rent to the rightful owner to recoup his debt to the municipality.(Link)
The "Majority" Power Hungry Hyenas Slugging It Out For A Space In The Rotten Carcass…
THIS IS HOW THE "MAJORITY" RULES – NOW WE KNOW WHY SOUTH AFRICA IS A VERY, VERY SICK COUNTRY WITH ULTRA SICK PSYCHOPATHS IN CONTROL- INDEED!
WHEN the head of a snake is dangerously sick, it ostensibly will spread to the body like an epidemic….
Police had to intervene when ANC thugs and delegates attending the Eastern Cape Elective Conference at East London ICC turned on each other, with fists and chairs flying across the venue. Supporters of Phumulo Masualle and Oscar Mabuyane exchanged blows inside the conference venue with the fight spilling over to the outside as the former's supporters fled for their lives. Scores of delegates were injured and ambulances rushed into the ICC to attend to those that needed emergency services.
ATCH: This is how the violence started at the #ANCEConference in EL last night, resulting in some delegates leaving the venue. @ZineGeorge
THIS IS NOW HOW THE MAJORITY' "LEADERS" SET AN EXAMPLE O HOW TO SETTLE THEIR DISPUTES, DOG EAT DOG.  STILL WONDER WHY THE "MAJORITY" ALSO FOLLOW SUIT?
Menzi Solomon Shange wrote: 
Zombies in The House'
The ANC Provincial Conference in the Eastern Cape degenerated into a mass of writhing bodies, flying chairs, blood splattering, fists flying, growling, spitting, biting – all this resembling a surreal scene out of The Walking Dead, which not surprisingly describes exactly how the average black South African regards the African National Congress – a political movement that has gone brain dead. Will ANC members please salvage what's left of this party's dignity? Maybe get out your shivs and slide them mercifully into their primitive brains, because those neuron sputtering meatheads are barely able to maintain bowel function. Sad state of affairs for sure.
We repeat, members of the ANC attack each other like caffeinated walkers at the conference, afterwards, the ANC delegates walked around zombie-like, eyes glazed over, no remorse, no different really to how they are normally, hoping that their actions appealed to the tribal instinct of their constituents, harnessing some new votes. Eish, and these are so-called civilized leaders?
The ANC are a sad reflection of what corruption, lack of discipline, lack of leadership, lack of proper education, and pure desperation for control will create. A group of sad and wretched power hungry dimwits who have become a burden on the suffering and woefully neglected citizens they are supposed to represent.
These ANC zombies give animals a bad name, it's time to euthanize them.
Viva Afrika!
Several outgoing provincial executive committee (PEC) members, including Masualle and former ANCYL deputy president Andile Lungisa, were whisked away by security. All these events unfolded in the wee hours of the morning and saw 755 delegates believed to be pro-Masualle fleeing the venue, leaving behind 951 who were predominantly rooting for Mabuyane. ANC national spokesman Zizi Kodwa condemned the violence. "It's unheard of in the ANC that such an incident would happen in the ANC conference. We have tried to abolish what's called slates and factionalism, that is to an extent to which factionalism was so entrenched," Kodwa said. "We are a democratic organisation what we are beginning to see is people who are prepared to contest but they are not prepared to lose."(Link)
Killing The Farmer That Feeds The "Majority."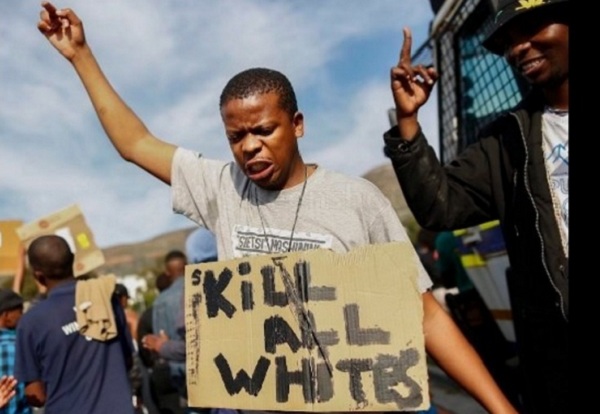 The terms "farm attack" and "farm murders" are popularly used to refer to "certain crimes committed on farms and smallholdings", the South African Police Services' head of communication and liaison, major-general Sally de Beer, told Africa Check. 
blob:https://www.youtube.com/946f0a80-244b-4e52-a0bf-028140ae8146