So, the NEW WORLD ORDER was not a conspiracy theory after all! The world supremacist United Nations and its greedy Multinational sponsors have schemed and planned and goaded and manipulated and bribed over the last few years, culminating in acceptance of their contract with the devil on December 11, 2018 in Marrakech, Morocco. where all our treasonous leaders will sign over authority for all our country's borders, to the United Nations.
Enjoyed this post? Share it!
Posted on
Leave a comment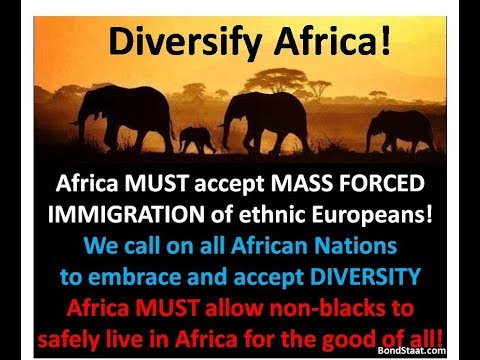 'I can't go into the city anymore': A video of common German people debating on the street over migration goes viral.
https://youtu.be/CuScO-W1AtA
In the end the Left wing traitor not only has no answer but actually admits she did it in spite and shows her childish hatred for her fellow countrymen.
---
Continue reading…
Enjoyed this post? Share it!
Posted on
Leave a comment
Intense Bombing raids by Allied forces during the Second World War, non stop over a 3 month period, not only caused tragic devastation on the ground but also sent shockwaves up through the Earth's atmosphere which were detected at the edge of space, according to new research. University of Reading researchers have revealed the shockwaves produced by huge bombs dropped by Allied planes on European cities were big enough to weaken the electrified upper atmosphere – the ionosphere – above the UK, 1,000km away.
Researchers at the University of Reading studied atmospheric response records during the time of 152 Allied bombing raids between 1943 and 1945, using data collected by the Radio Research Centre in Slough, UK. Their findings were published in Annales Geophysicae this week.
Enjoyed this post? Share it!
Posted on
Leave a comment
Bundestag President Wolfgang Schäuble has told Germans to forget about the one million plus "refugees" who flooded into Germany over the past three years ever returning to their home countries.
"We should realize how difficult it is to deport in individual cases. That's why we should not foster too much hope that we can send back the majority of these people," said Schäuble.
"We should not foster too much hope" of sending them back.
He added that all efforts must be made "to integrate them into our society," before he went on to defend Angela Merkel's controversial open border policy as the "right" decision, despite the fact that it has largely ruined her political legacy and caused her approval rating to sink to an all time low.
Schäuble did concede one point to critics of mass immigration; That so-called "refugees" (the majority of whom are economic migrants) should seek r
Continue reading…
Enjoyed this post? Share it!
Posted on
Leave a comment
A leaked Open Society document shows the George Soros organisation are funding the Immigrant Council of Ireland (ICI) and NASC to lobby the Irish government to increase migrant citizenships and to then politically mobilise those migrants to take political control. Yet patriotic Irish are kept out of politics through castigation and insults. Traitorous head of..
Continue reading…
Enjoyed this post? Share it!
Posted on
Leave a comment
It is ironic and tragic that even though women are usually the driving force behind pushing for more islamic immigration, a fact borne out in the demographic analysis of most elections in recent years, yet it is women who are the biggest victims in all this? Do they not care? Do they approve of rape? Do governments approve of mass rape and should European males start adopting this behaviour en masse which women and governments seem to defend, promote and protect?
Sweden has one of Europe's highest rates of sexual assaults. At 120.79 violent sexual assaults per 100,000 people, and 56 rapes per 100,000, the otherwise bleak socialist country ranks as having the second highest rate of sexual violence in Europe. 
Continue reading…
Enjoyed this post? Share it!
Posted on
Leave a comment
More than half of students at Viennese schools use their native language, rather than German, at home and as they go about their everyday activities, according to a new integration report released by the Austrian government. This time bomb makes the conquest of Vienna by foreigners a fait accompli, given that they breed far more than locals do. Only deportation can save Vienna now. More shocking is that Half of all recipients of minimum welfare benefits in Austria are foreign nationals. 55 percent of them are asylum seekers or those qualified for state subsidies.
The 8th annual report, prepared by an independent expert council, has found that the Austrian government's efforts to encourage those with migrant
Continue reading…
Enjoyed this post? Share it!
Posted on
Leave a comment
A German mother has taken to Social Media to express her shock, fear and concern with a polarizing viral video which seems to have hit a chord as it received 2 million views. The mother of a 3-year-old boy, who ironically wears the liberal trademark pink hair, complains that her son cannot socialize with other kids in a public nursery, as only two out of 25 can speak German yet all foreigners can communicate with each other in their language. This situation is not unique either!
In a Facebook video post filmed on August 15, the mother, Leen Kroetsch, takes aim at German politicians for what she claims is a botched immigration policy which is forcing her 3-year-old, who has no immigrant background, to adjust to foreign and alien environment in the daycare center.
Kroetsch claims that out of 25 children, her son's group consists of only two without an immigrant background and who can speak
Continue reading…
Enjoyed this post? Share it!
Posted on
Leave a comment
Health experts are warning that a potentially lethal parasitic disease from South and Central America, spread by 'kissing bugs' has taken hold in the US and Europe, with more than 300,000 Americans contracting it. This news comes at the same time that a record-breaking 41,000 cases of measles have been registered in Europe so far this year resulting in 37 deaths, according to new statistics provided by the World Health Organization (WHO). The figure is almost double the then-record breaking number of 23,927 cases recorded in 2017. This will put an even heavier strain on the already struggling Health Services in Western nations as exposed by a nurse in Germany.
Enjoyed this post? Share it!
Posted on
Leave a comment
A nurse in Germany has sent out a warning to the West after her experiences at the hands of migrants and refugees who flooded Germany when Merkel invited them all in. "At the hospital, we had a meeting about how the situation here and at the other Munich hospitals are unsustainable."
Clinics cannot handle the number of migrant medical emergencies, so they are starting to send everything to the main hospitals.
Many Muslims are refusing treatment by female staff, and we women nurses are now refusing to go among those migrants!
Relations between the staff and migrants are going from bad to worse. Since last weekend, migrants going to the hospitals must be accompanied by police with K-9 units.
Many migrants come to Germany because they have AIDS, syphilis, open TB and many exotic diseases that we in Europe do not normally treat on such a scale. If they receive a prescription to t
Continue reading…
Enjoyed this post? Share it!
Posted on
Leave a comment
In what some would call karma or payback for UK's anti Christian, anti Catholic policies and attitudes, going back centuries, the supremacist UNHCR, who decides on behalf of Western nations where refugees are sent, sends Muslims to UK but sends Christian refugees to Germany or Sweden. This is also where the refugees prefer to go, further underscoring the pick and choose lottery win, that the refugee system has become. The word used is "resettlement" which indicates it is permanent with no intention that these refugees will ever be asked to return to their countries of origin. Indeed, "resettling ONE refugee plus FIFTEEN family members makes it clear they are permanently relocating people en masse! This is warfare! This is blatant kidnapping of desperate people to use be used as consumer fodder by oligarchs and multinationals and voter fraud by the occupation governments in the West.
As EuroWars reported Continue reading…
Enjoyed this post? Share it!
Posted on
Leave a comment
Angela Merkel used to be viewed like the German football team – invincible, with exceptional technical skill and a steely determination that always prevailed. Or, to use another metaphor, her style of governing was reminiscent of the slogan of the car-manufacturer Audi, Vorsprung Durch Technik: 'Advantage through technical prowess'.
Continue reading…
Enjoyed this post? Share it!
Posted on
Leave a comment
Hardliners in Chancellor Angela Merkel's conservative bloc on Monday gave her a two-week ultimatum to tighten asylum rules or risk pitching Germany into a political crisis that would also rattle Europe. Merkel's party slumped in polls as this dispute on migrants threatens a split.
Continue reading…
Enjoyed this post? Share it!
Posted on
Leave a comment
The mere presence of NGO #FakeRescue ships off the Libyan coast is killing people, with some actually encouraging illegal migrants to jump into the water, and put themselves in harms way, for the chance of winning the lottery of free stuff in Europe, at the expense of European taxpayers. The presence of these traitorous Fake Rescue Ships is causing an incredible amount of destabilisation and trauma in the region and throughout Europe. Just how many millions are these NGOs raking in at 6,000 Euros per head, (not counting possible "anonymous" donations from the human traffickers themselves)? Is there any due process and anyone checking or counting? Libya has a population of only 6 Million, Italy has 60 Million! Where is the logic? 
Continue reading…
Enjoyed this post? Share it!
Posted on
Leave a comment
Like a Jellyfish out of water, Europe is paralysed and at the mercy of World Supremacists and their invading goloms, raw material ready to be turned into obedient consumers and indebted slaves on the plantation of globalism.. Susanna and Tommy are just another of the many who are to be replaced…
Continue reading…
Enjoyed this post? Share it!